Miami Neighborhoods:
Allapattah - one of Miami's poorest neighborhoods
Location: NW 7th-27th Avenue between 20-38th Streets near Miami Civic Center and Jackson Memorial Hospital
70% Hispanic
Special features: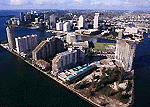 Brickell Avenue: the banking and business center of Miami. Upscale condos, hotels and dining establishments serve a growing residential population of bankers and executives who want to live near their place of work.
Location: South of the Miami River
Downtown Miami - the heart of Miami, centered at Flagler Street and Miami Avenue. Miami's streets are labeled according to their relation to this main intersection (eg NW, NE, SW and SE). For example, E 1st Avenue is one block east of Miami Avenue. (See Map)
Tip: Miami streets run east and west, while avenues run north and south. (exceptions: Hialeah and Coral Gables)
Downtown Miami is a highly commercial area with many electronics stores.
Sights:
Miami-Dade Cultural Center
Pop: 2500
Location: between Little Haiti and Miami Shores
Older single-family homes with tree-lined streets. Large Haitian and Hispanic population. Over 1/3 of the residents are foreign-born. Three subdivisions: El Jardin, Sherwood Forest, El Portal. Contains the site of an ancient Sequesta Indian burial mound.
Little Haiti - NE 54th between Biscayne Blvd. and N Miami Avenue - Creole-speaking community with interesting Haitian stores and spiritual shops.
Location: west of Brickell Avenue
A vibrant latin neighborhood, home to residents from Cuba, Honduras and Nicaragua. At its heart is Calle Ocho, lined with authentic Cuban businesses like cigar factories, fruit stands and cafeterias. Here you can find chicharones, merenguitos and other Cuban treats, plus memorabilia shops, galleries and theatres.
Special Events:
Calle Ocho Street Fair (March) site of Miami's Carnival

Cultural Fridays (last friday of each month) art, music, dance, theater and poetry performances on Calle Ocho.
Teatro Ocho - Spanish-language theater
Liberty City - an economically depressed African-American community
Location: NW 12-19th St, between 62-73rd Street.
Home of the African Heritage Cultural Arts Center, with a theatre, art gallery, dance and music studio.
Miami Shores
Chamber of Commerce website: https://www.miamishores.com/
Described as "the poor man's Coral Gables," Miami Shores is a small bedroom community of 10,000 with a small-town feel. 14% Hispanic.
Nearby Grove Isle Schools and Universities:
Overtown - one of Miami's poorest communities with mostly public housing. This African-American neighborhood is currently undergoing restoration.
Pop: 20,000
Affluent condo and housing development community with large Jewish population. Growing population of young families.
Sights:
Bal Harbour - the most exclusive of all Miami communities. Home to celebrities and millionaires, luxury resorts and couture shops (Bal Harbour Shops).
Pop: 4703
20% Hispanic
A quiet residential island near Bal Harbour. Mostly retirees and working professionals.
Beaches nearby. Low crime rate.
Coral Gables
Pop: 42,249
Hispanic pop: 42%
Founded in 1925, Coral Gables was born into elegance and promptly nicknamed "The City Beautiful". Many Mediterranean-style fountains, plazas and buildings grace its boulevards. Mostly a manicured, upscale Miami suburb, it is home to a booming Hispanic population in North Gables.
Sights: the historic Biltmore Hotel, many chic restaurants and cafes, "Miracle Mile" (the upscale shopping district), the Venetian Pool, Fairchild Tropical Gardens and the University of Miami. Also historical villages: Chinese Village and French Normandy Village.
A former bohemian village, "the Grove" is a trendy upscale neighborhood with shops, cafes and a carnival-like nightlife atmosphere. The city is a mix of condo communities (Grove Isle) and expensive single-family homes.
Sights:
Coconut Grove Food and Music Festival
Golden Beach
Pop: 852

A tiny and exclusive gated community of single-family homes and nearly non-existent crime. Miami-Dade's northernmost beachfront community.
Pop: 8,800
A small exclusive island enclave with many foreigners and retirees. Condo communities and single-family homes. Connected to Miami via the Rickenbacker Causeway.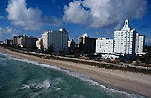 Miami Beach
Location: 43rd to 96th Street on the Ocean.
(not to be confused with North Miami Beach on the mainland)
An older neighborhood with a large population of retirees. High rise condos and luxury hotels in the east, single family homes in the west.
Sights:
Small island community linked to Miami Beach via the 79th Street Causeway
Over 1/3 Hispanic
Pop: 35,270
Location: I-95 and the Intracoastal Waterway between North Miami (NE 151st St) and Miami-Dade County
A city of eighteen neighborhoods in NE Miami-Dade county. Originally a haven for Jewish retirees from the Northeast US, now experiencing growing Chinese and Caribbean populations. Many Jewish synagogues and bagel shops. Local library has extensive Spanish and Chinese collections.
South Beach is the world-famous tourist and style mecca immortalized in film and modeling shoots. Chic beach clubs, nightclubs, boutiques and fancy eateries.  In the Art Deco district over 800 vintage hotels have been renovated to the their original pastel palette of pinks, corals and blues and embellished with neon.  Residents are an eclectic mix of subcultures. Upscale neighborhood.
Location: 5th - 21st st. on the Atlantic Ocean
Sights:
Lincoln Road Mall - a chic and popular pedestrian-only outdoor shopping district with boutiques, bookstores, art galleries and studios.

Washington Avenue - hottest nightclubs

Ocean Drive - cafes and condos

Collins Avenue - chic specialty shops and Art Deco hotels.

Art Deco District - Lincoln Rd. to 6th St. betw. Ocean Drive and Alton

Espanola Way - charming spanish-style village of nightclubs, restaurants and shops. Home to historic Clay Hotel and International Hostel.
A small community of condos and housing developments populated by retirees and winter residents.
Housing developments: Atlantic Isles, Golden Shores
NY style deli: Rascals
Pop: 4100 small but growing oceanside community between Miami Beach and Bal Harbour. Retirees and young professional families.  Elementary school, movie theater, parks, Bal Harbour shops and the ocean all within walking distance.
Bunche Park
NW 22nd ave. from Opa-Locka on the south to Palmetto Expy. on the north.

A low-income African-American district.

Pop: 53,000
Location: NW 17th-57th betw. Palmetto Expy and County Line Rd.
An ethnically diverse lower-middle class community with a growing Hispanic presence.
Sights:
Pro Player Stadium (formerly Joe Robbie Stadium) - home of the Miami Dolphins football team
Pop: 14,000
A manicured suburban enclave with a growing population. Headquarters for large US companies like Univision, Carnival Cruise Lines and Ryder.
Location: NW of Miami near Miami International Airport
Pop: 213,000
A densely populated Spanish-speaking community of Cubans and other Latin Americans. Street signs and billboards are in Spanish. The commercial district contains many Latin cafeterias, tabacco shops and supermarkets. Home to Hialeah Park Race Track and the Westlands Mall.
Sights:
Hialeah Park Race Track - famous S. Florida landmark, home to thoroughbred and dog racing. Also site of a wildlife park with its signature flock of wading flamingoes.


Hialeah Gardens
Pop: 19,297

Latino community west of Hialeah.
International airport anchors this area with hotels and office complexes quickly dotting the landscape.
Nearby communities include Doral and Miami Springs.
Sights:
Pop: 23,000
Location: bounded by the Palmetto Expressway on N and W, betw. NW 57th and 138th streets
A quiet planned community with lots of lakes, parks and golf courses. Mostly white and Hispanic middle-class.  Main Street is a quaint downtown shopping district with old-fashioned charm.
Festivals:
Mother's Day Arts and Crafts Festival (Mother's Day Weekend)

Latin Jazz Festival (September)

Spring Festival, Our Lady of the Lakes Catholic Church
Pop: 13,343
40% Hispanic
Location: between Hialeah and Miami International Airport
A quiet family community which enjoys an old-fashioned small town Americana feel. Fourth of July parades, a scenic gazebo, Olympic-sized public swimming pool.
Pop: 50,258
24% Hispanic
Racially diverse suburban community with a booming population of young families. Growing Hispanic contingent. NE 125th Street downtown area is undergoing redevelopment.
Westside: Caribbean neighborhood.
Sights:

Opa-Locka
Pop: 17,000

One of the poorest communities in Miami-Dade County, opa-locka is known for its airport and for housing the largest collection of Moorish architecture in the Western Hemisphere. A program to revitalize the downtown area is currently underway.
Sweetwater - a small town with mostly foreign-born Hispanic presence. Main language spoken is Spanish. Sedanos supermarket and Los Ranchos restaurant are the local landmarks.
West Miami
Location: west of Coral Gables
Pop: 5,863
60% Hispanic

Mostly residential area near Coral Gables. Coral Way and SW 8th St. betw. 57th and 67th St.


Country Club of Miami
Between Miami Lakes and Broward County line

A partially-gated planned community of single-family homes. A mix of year-round residents and winter retirees. Features two 18-hole golf courses, lakes, a swimming pool and a clubhouse/restaurant.
Former agricultural area with growing population of young families. Main commercial sub for S. Dade centered at 168th St. and Biscayne Bay. Favored for its gated housing developments and proximity to Biscayne Bay. Cons: Located near the S. Miami-Dade landfill "Mt. Trashmore."
Florida City
Pop: 7,843

Southernmost municipality in Dade County. Businesses and homes are being rebuilt after Hurricane Andrew damaged the area. Home to the Florida Keys Outlet Mall, hotels and businesses. Large agricultural presence and wholesale Farmer's Market.

Everglades National Park - a vast 1.5 million-acre wetlands preserve and wildlife conservation area. Largest wilderness in the US east of the Mississippi River. Mangrove forests and cypress swamps shelter alligators, storks and other wading birds as well as a great variety of marine life.
Less than an hour's drive from Miami.
A rural community at the south end of Dade County 30 miles south of Miami. Destroyed in 1992 by Hurricane Andrew, this is a community in recovery. Former Air Force Base may become a commercial airport but is opposed by environmental groups due to its proximity to the Everglades National Park, Florida's largest wilderness preserve.
Location: Dixie Highway to the Florida Turnpike betw. Sunset Drive and 104th Avenue
A large bustling suburban middle-class community that has experienced explosive growth in recent years.
A popular place to raise a family. Traffic and schools are overcrowded.
Leisure City - Planned community of single-family homes 24 miles south of Miami. Originally a retirement community, it sustained severe damage during Hurricane Andrew. Agricultural workers are now moving into this area.

Medley
Pop. 868

Small business/residential community across the Okeechobee River from Hialeah. Home to the River Cities Festival.



Pinecrest
Pop: 15,378

A well-heeled residential community with relatively low crime rate. Location: SW 136th St betw Old Dixie Highway and Cutler Rd.